The Top Ten Best Sykes Large Cottages in England
Sykes Cottages is one of the largest holiday cottage agencies in the UK and has over 2900 cottages that sleep 8 or more people, a fantastic range of choice for holiday makers looking for a large holiday cottage. We have picked out our top ten large cottages from Sykes to help you with your research in finding the perfect large cottage and we cover all of the main holiday destinations in the UK.

The South West
Sykes have 230 large cottages in Devon and over 340 large cottages in Cornwall that sleep 8 or more people, a fantastic range in the most popular tourist destination for UK based holiday makers looking to holiday within the UK. Here we have 3 of the best cottages in the finest locations for you to choose from.
The Beach Halt in Perranporth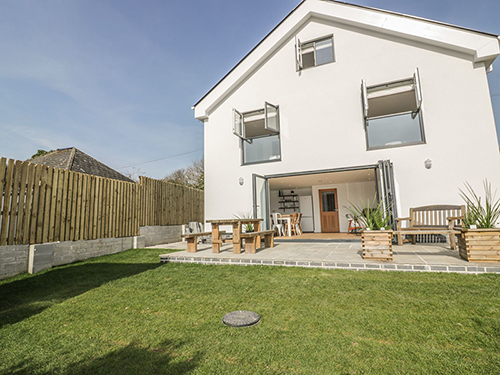 The Beach Halt in Perranporth is just a fantastic property in one of the best locations in Cornwall. The Beach Halt is large, modern and spacious holiday home that sleeps 10 people with 5 bedrooms. We have chosen the Beach Halt as it has great reviews on My Cottage Holiday with comments that praise the views, the open space and the towels, which are apparently very fluffy. We also chose Beach Halt as it is in Perranporth and if you have never been there, it is well worth a visit.
Perranporth is probably the best large beach in Cornwall, that is an accolade! Miles of golden sands and great surf with RNLI lifeguards. There are several restaurants and shops, notably the great bar by the beach and parking and access to the beach is easy, it does get busy during the school holidays though. We definitely rate Beach Halt as one of Sykes best large holiday cottages in Cornwall, it has everything going for it and we love Perranporth, a bit of a Cornish gem, especially if you want a large cottage by the beach in Cornwall!
Hole Farm in Chagford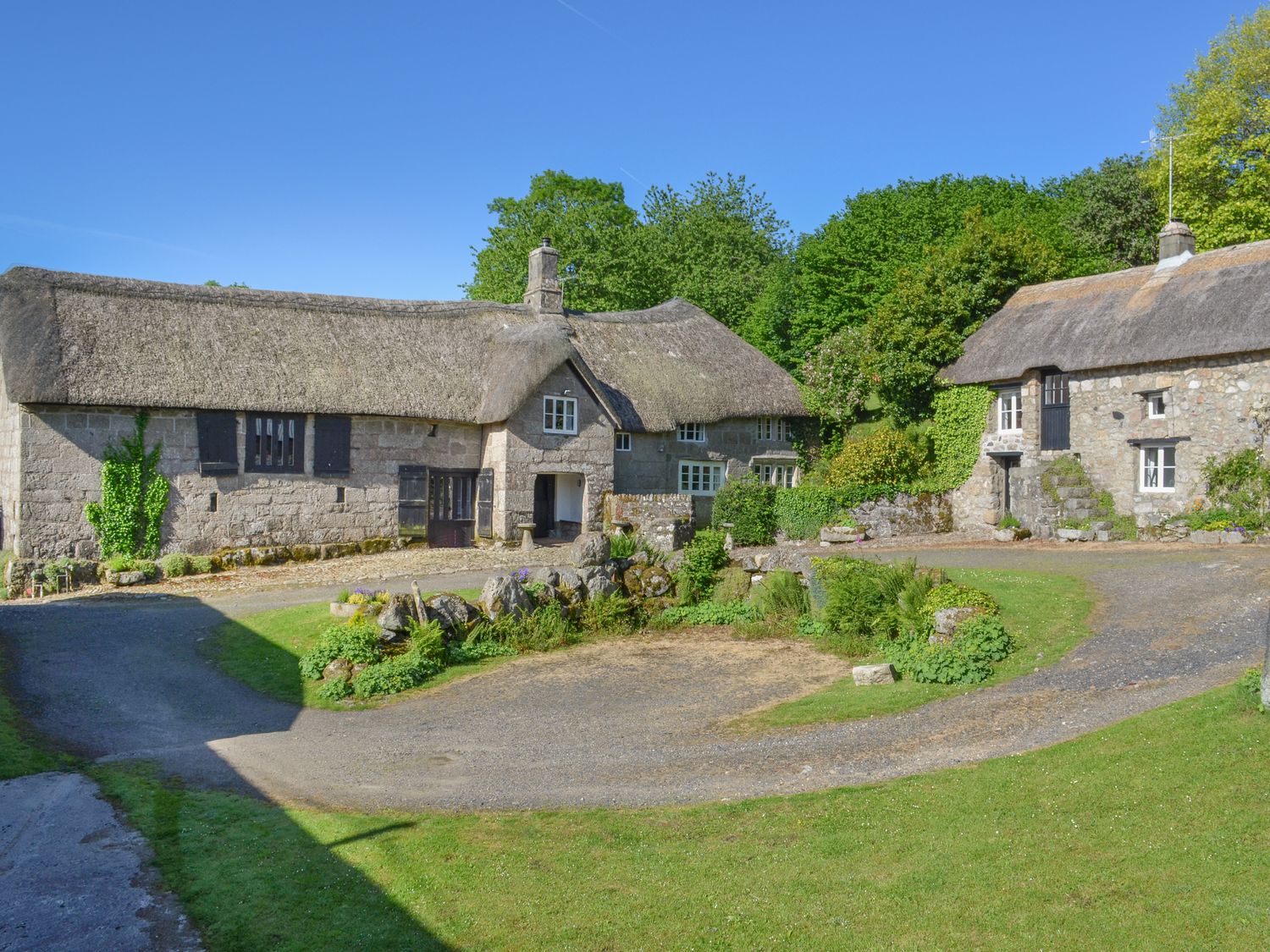 Hole Farm in Chargford is a completely different alternative to the beach Halt and is a popular holiday home that has been managed by Sykes for many years. This is a really old character farmhouse that has been well preserved and sits on the edge of Chagford in the heart of Dartmoor. Hole Farm in Chargford is a typical Devon longhouse and still retains its thatch and is full of character. Be warned, the ceilings are low and the floors are uneven, that is what you get from a traditional Devonshire home that has bags of quirks and has been maintained to enhance this character.
Hole Farm in Chargford sleeps 12 people with 6 bedrooms, lots of nooks and a warming wood burner in the lounge, the views are gorgeous and the peace is heavenly. This large character thatched Devonshire holiday cottage is perfect if you want to explore the wonders of Dartmoor and really get away from it all. You really will not believe how peaceful it is here, even in the summer months, forget about crowds, they do not exist. Chagford is a small Dartmoor town, great restaurants and food shops and the perfect location for walking and exploring Dartmoor, it really is a town that has protected its character and charm.
Our only word of warning here, bring your water proofs, even in the summer. This is Dartmoor, a stunning wilderness and you can literally lose yourself, but it does rain and when it does rain, you will understand why the royal Marines use this as a training base. We love Hole Farm in Chargford and it has great reviews from holiday makers that have stayed here before with Sykes Cottages.
Dragon House in Dunster
Dragon House has great reviews, bags of character and Dunster is simply gorgeous, very close to Minehead and Exmoor so you have a beautiful house in a stunning location, what more could you ever need. Sykes Holiday Cottages have been managing Dragon House in Dunster for several years and it is easy to see why. The house from the outside is simply beautiful and inside you have tastefully decorated and furnished rooms in a traditional Exmoor style, warm and cosy in the winter and cool in the summer as the thick walls keep the heat out!
A beautiful lounge with resplendent seating surrounds a large wood burner in an inglenook traditional fireplace, that sets the tone for the whole house. It really does quite elegantly combine modern and high quality furnishings whilst keeping the character of the property intact. There is even a bar and a pool room which harks back to the days gone by when it was a pub and a hotel and this really hits you when you walk into the spacious hallway, it really is a large holiday cottage in Somerset with lots of character.
Along with great reviews on My Cottage Holiday, Dragon House is also in a stunning location. Dunster is a small village just a short drive from Minehead with all of its attractions. You can get a day ticket to Butlins, the water slides are great, or enjoy a day on the West Somerset Railway. Dunster itself is beautiful, it is like taking a step back in time and Dunster Castle, now managed by the National Trust is a must visit, such an interesting and educational place to visit. So there you have it, Dragon House in Dunster has all the character in a great location with Exmoor on your doorstep! We should just mention that the walk up to Watersmeet from Lynmouth is a must do by the way!
The South and East Anglia
There are so many places to stay in the south, south east and East Anglia and the large holiday homes that Sykes has to offer are typically in demand as they can also be used for business as well as holiday lets. Here we present three completely contrasting cottages from the ultra modern to traditional East Anglian large holiday cottages that are let through Sykes Cottages. We think that these offer a great choice contrasting between ultra modern and great beach based holiday homes.
Abbots Wood in Netley Abbey, Southampton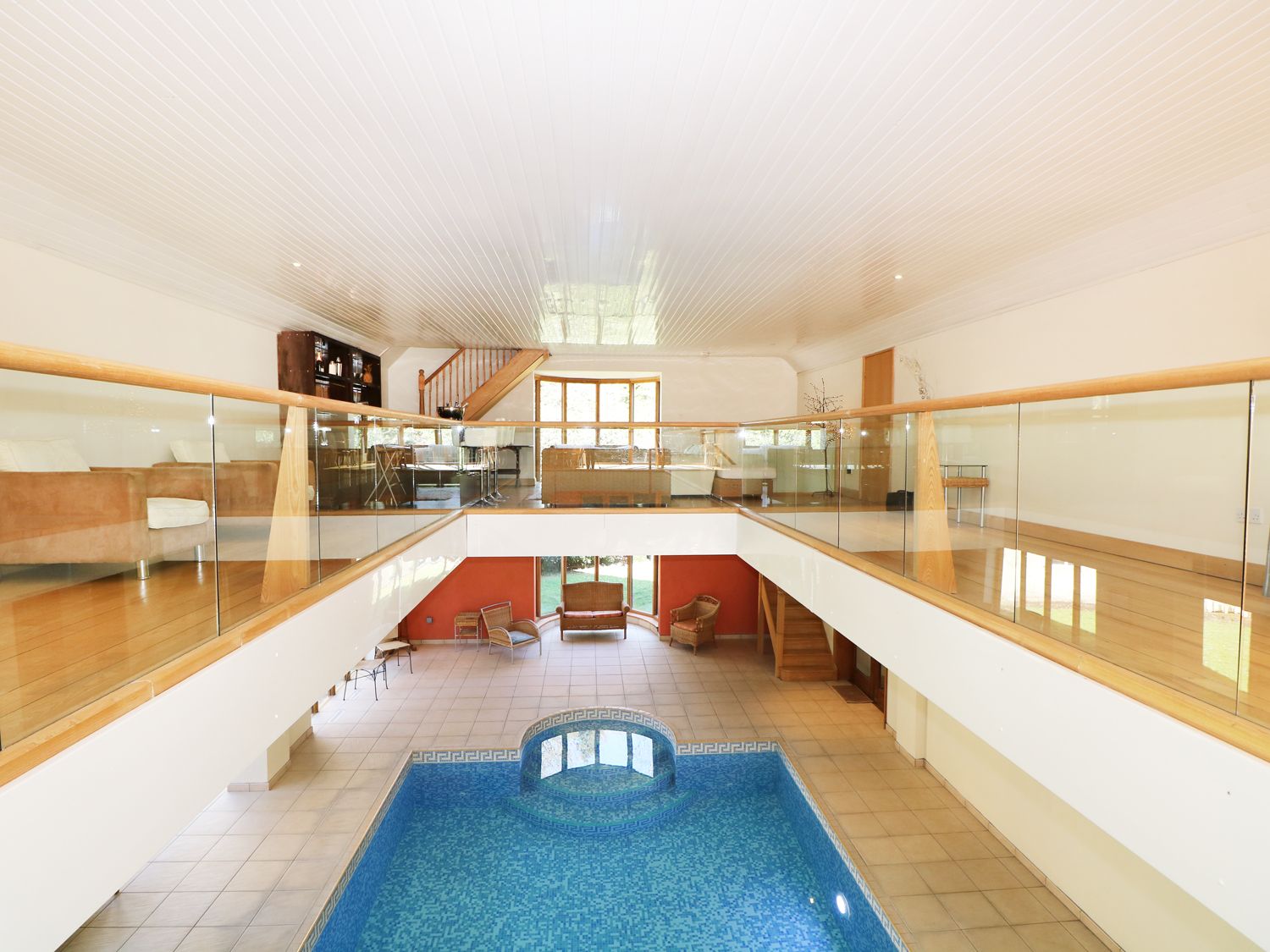 Abbots Wood is just stunning, in fact it would seem stunning in Beverley Hills, let alone Southampton! This is a modern house, big, bold and very spacious with a stunning indoor swimming pool that is the main feature of the property. It is clean and modern with plenty of space in every room, everything that you could wish for and more. The swimming pool area with the elevated walkway above really is a marvel though, if you want high class, Abbots Wood delivers in bundles. The property is set in large grounds and within a gated community so security is not an issue if you really want to ensure your peace and quiet. Everything is modern here, designer chic in style, really well thought out and cleverly furnished.
Abbots Wood in Netley Abbey is a 5 bedroom property that sleeps 10 people and is a jewel in the Sykes large cottages range, really impressive on all levels. You get everything here, off road parking for 10 cars, can you believe that, it even has its own private fishing lake. Abbots Wood in Netley Abbey is also dog friendly and accepts two dogs with plenty of space to exercise them. Southampton is just a short drive away, the property is also very close to Southampton Water and there are plenty of walks nearby. If you want a large holiday cottage in the south that has the wow factor, Abbots Wood is well worth viewing, it is pricey but you can really understand why, a very special luxury large holiday cottage in the Sykes Cottages portfolio!
Beckhythe Cottage in Overstrand, Cromer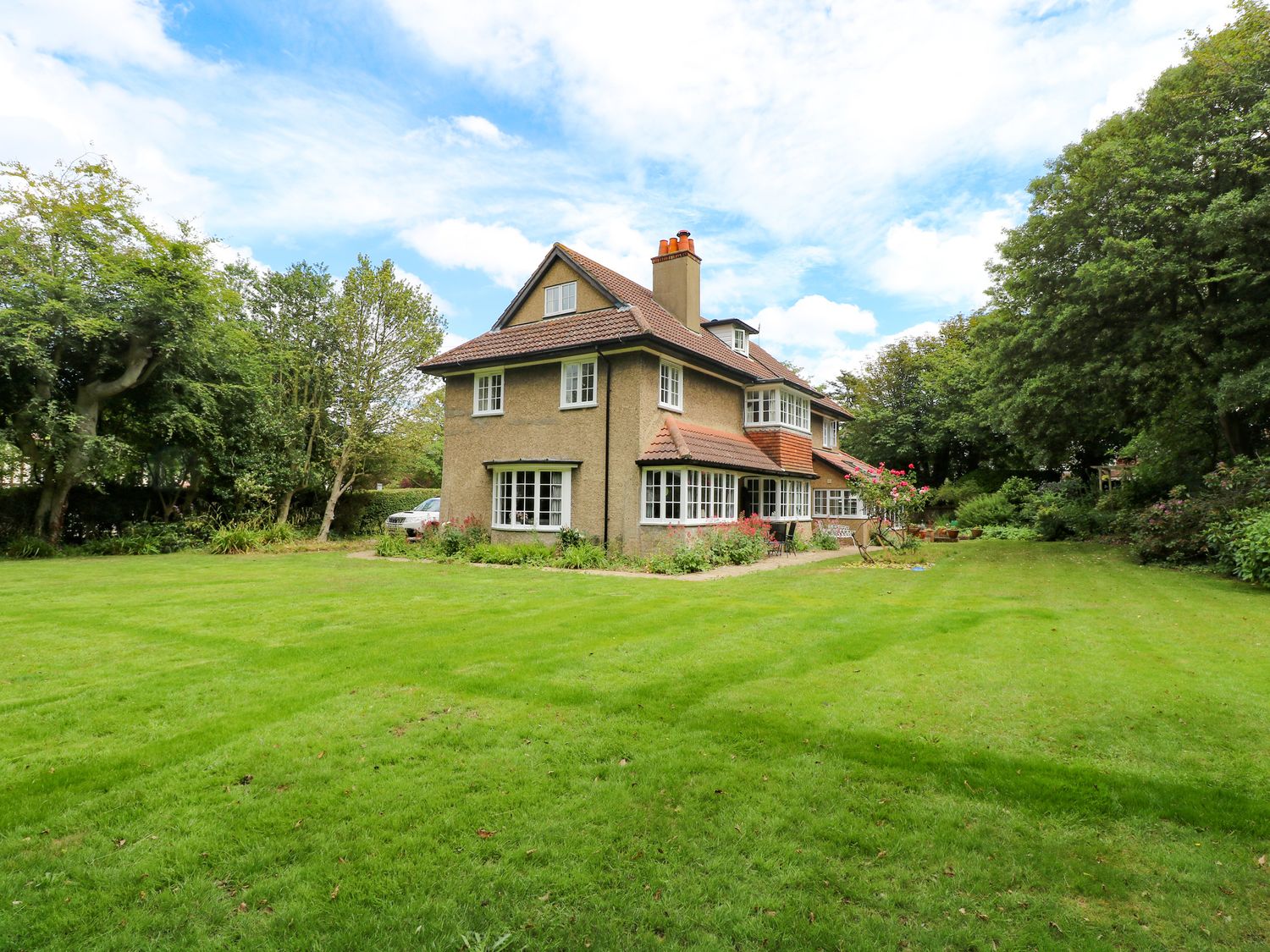 Beckhythe Cottage sits in a beautiful location in the village of Overstrand on the Norfolk coast just two miles from Cromer, seven miles from Sherringham and half a mile down to a sandy beach. It is a pretty cottage that is well maintained by its owners and has great reviews. We chose Beckhythe Cottage as it is a large cottage in a perfect location if you want a holiday property that sleeps up to 14 people on the Norfolk coast. Cromer is a wonderful traditional seaside town with a pier and a great sandy beach, very popular with families and it retains a traditional and upmarket feel. Overstrand is just half a mile away, a wide sandy beach when the tide is out although high tide can come up to the beach wall so timing is everything for a day down the beach, very good for families and is backed by a pretty village with a plethora of shops and cafes and easy parking.
Beckhythe Cottage in Overstrand is a large property sitting in spacious grounds, mainly to lawns and is tastefully furnished and finished inside and has the feel of an early 20th century gentlemen's house. There are seven spacious bedrooms, all are doubles in various sizes and the property is set over three floors. The comfortable and well presented lounge has an open fire and there is a very elegant dining room along with a smart and modern kitchen. Beckhythe Cottage in Overstrand is perfect for families that want a large property to share, a quiet location but with easy access to a sandy beach and the many gorgeous towns and villages nearby to explore, there are also a good number of decent pubs within walking distance!
Hoath House in Chiddingstone, Kent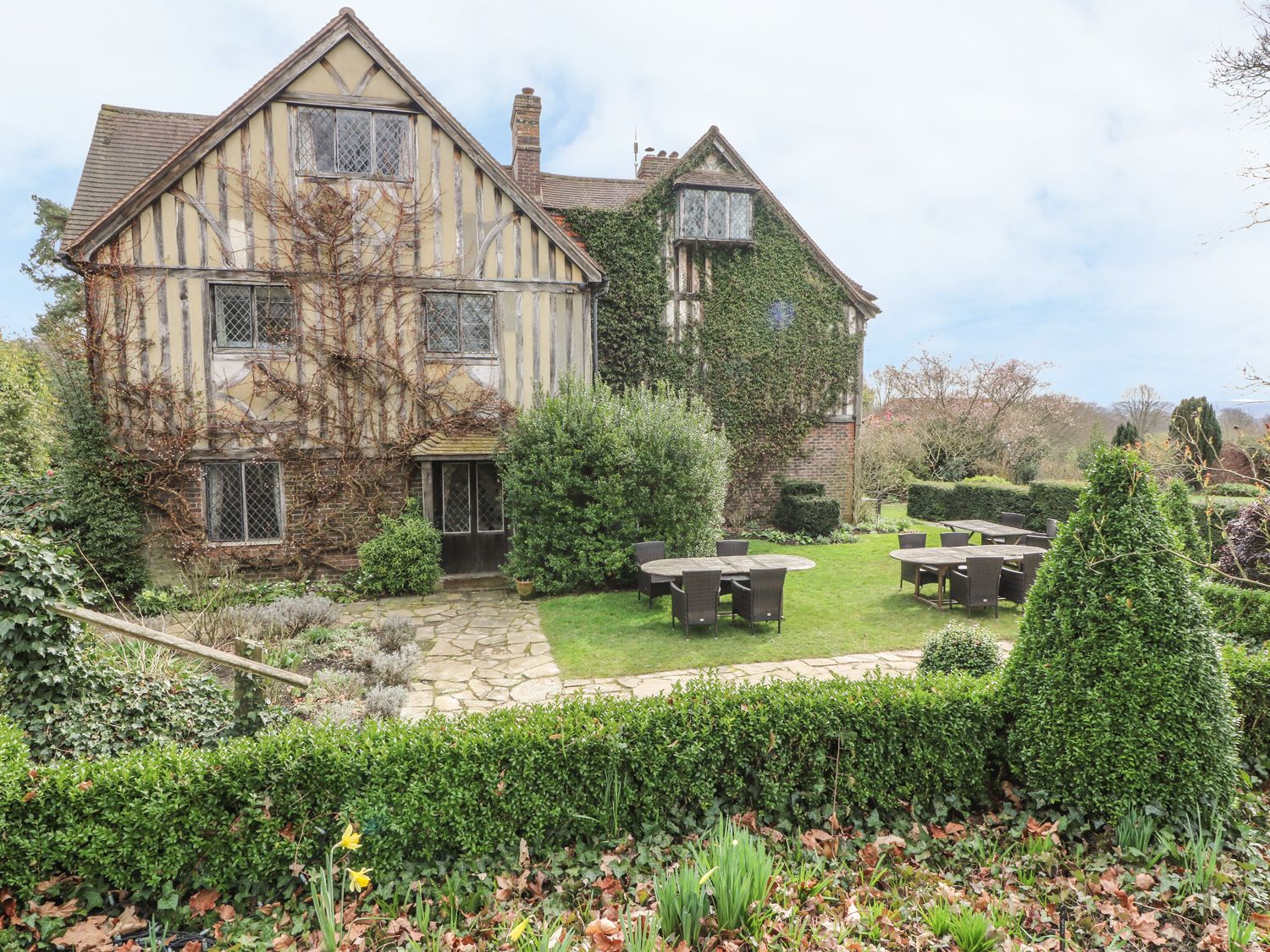 Hoath House in Chiddingstone sits in rural Kent, they say that Kent is the garden of England and if you visit Hoath House, you can see why. In many ways, Hoath House is the polar opposite of Abbots Wood, it is just gorgeous if you like old and traditional properties that ooze character. Portraits adorn the walls, oak beams and wood burners and old books, what a beautiful place to stay. If you want a large holiday cottage in Kent that has character and soul, Hoath House is a great choice. Stunningly peaceful and yet easy to access from the south east and London, step back in time and relax, Hoath House is an absolute treasure.
There are seven bedrooms at Hoath House with two having two double beds and each bedroom also has a double sofa bed and there is an additional sofa bed in the second floor snug so this property can actually sleep up to 26 people. All of the bedrooms are individually styled and there is an art deco style in many rooms, especially the large bathroom. Combine this with oak panelling, oil portraits above dressers, a beautiful games room with table tennis and pool and grand staircases. This character manor house just really has everything to sweep you off your feet if you love old houses.
The location is great as well, it is very peaceful and there are some great places to visit with Hever Castle being a few miles away, a must visit place if ever there was one. London is within easy reach by train and Royal Tunbridge wells is a short drive away, superb for boutique shopping. This area of Kent is just so rural and so missed by everyone that passes through, from farm shops to vineyards, it is a joy to visit and completely off the beaten track!
The Midlands and the North
We have picked four very different holiday homes in this area, we could have picked two dozen or more to be honest but these four really stood out. To be honest, we have gone a bit excessive here however, we just love these properties and they have great reviews. Sykes has a huge range of large holiday cottages in its heartland, so please have a look at the fantastic range that they have to offer, we just think that our chosen four are full of character, have great owners that really care and they stand out as something completely different!
Old Station Farm, Malton in North Yorkshire
Old Station Farm is about three miles from Malton in North Yorkshire with easy access to Scarborough and Filey. This is a six bedroom limestone traditional large Georgian North Yorkshire property set in the pretty village of Amotherby, which incidentally has a great pub but we didn't tell you that! We love this property because it is tasteful, well-furnished and has great reviews, it is obvious that the owners have a passion for providing a high quality large holiday cottage in North Yorkshire with all the character. It is great value for money as well, considering the size of the property and the location, we think that the Old Station Farm is a gem of a find!
Old Station Farm sleeps up to 15 people and is dog friendly, it has six bedrooms, three of which have four poster beds! This is a very spacious property as well, typical of the Georgian fine buildings that adorn North Yorkshire and has retained all of the character that makes it so special. Outside, there is lots of off road parking and gardens laid to lawn as well as a small orchard and the village is a short walk away.
Inside, you get character and lots of it, big beds in spacious bedrooms, great art work and prints on the walls and sumptuous furnishings throughout. There is a cosy kitchen with an electric oven and an aga to keep you warm in the winter, a large dining room and gorgeous lounge. The attention to detail here really makes Old Station Farm near Malton really stand out, great value for money and a perfect location for exploring the cost and the North Yorkshire countryside making it our top value for money pick from Sykes large cottages in the North!
The Oaks in Bowness-on-Windermere, Cumbria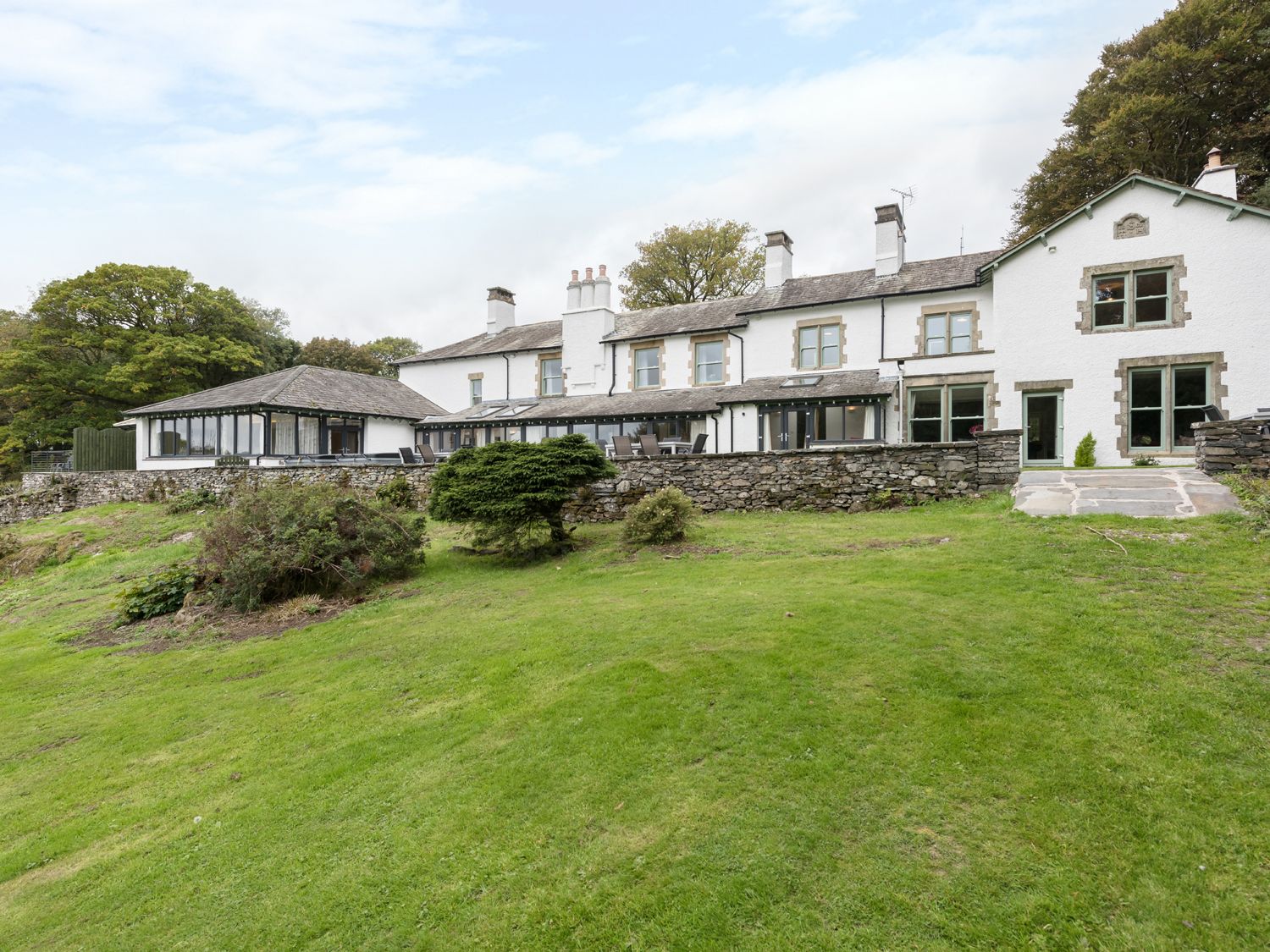 We love The Oaks in Bowness-on-Windermere, a huge character holiday home that has undergone a complete refurbishment resulting in a beautiful large and luxury holiday cottage in the Lake District that is set in a stunning position. The Oaks always gets really good reviews as well and it is clear that the owners communicate with their guests well and have a lot of pride in this magnificent holiday home and so they should be!
The Oaks has 12 superbly appointed bedrooms and sleeps up to 25 people, of the 12 bedrooms, 10 have en-suite facilities and there is a ground floor bedroom that has been designed to be wheelchair friendly, all of the rooms are tastefully and individually decorated and appointed with luxury furnishings. From the stunning dining area to the gorgeous large lounge, everything here is modern, crisp and clean and yet the house retains the historical character that is built in to this mid nineteenth century property. There is an additional leisure room and a children's tv room and two hot tubs for you to relax in.
The Oaks in Bowness-on-Windermere really stands out as a character property, spacious inside and outside with large grounds to enjoy and you can even hire your own boat, a chef is also available. We think this is a great holiday property in the Lake District with Bowness-on-Windermere a short drive away and an easy walk down to the lake ferry, a great day out exploring the water and a trip to Coniston. It is beautiful and if you are looking for an exceptional larger holiday cottage that has great reviews, we think that The Oaks in Bowness-on-Windermere is the perfect choice.
The Croft in Peterchurch in Herefordshire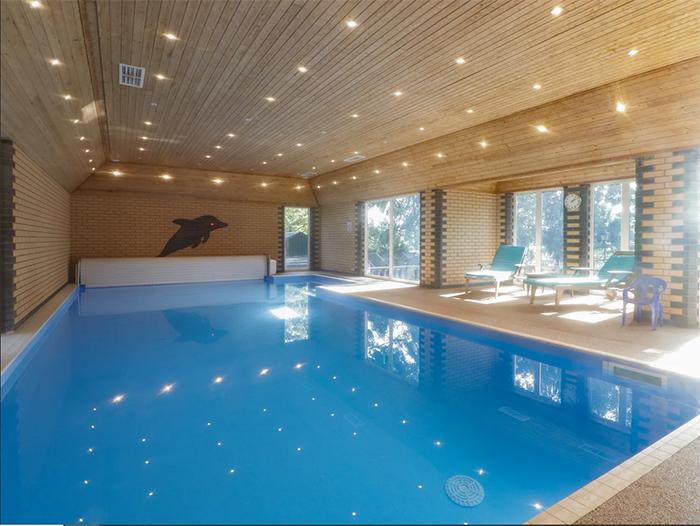 The Croft in Peterchurch gets our vote for a brilliant large cottage with Sykes having great reviews, a pretty holiday home with bags of character and the setting is stunning. Herefordshire is a bit of a jewel, very unspoilt, quiet and with stunning countryside to enjoy. The Croft in Peterchurch is set close to the Black Mountains in between the county town of Hereford and Hay-on-Wye which is a gorgeous place to visit, renowned for its many book shops. The property is set in 6 acres of grounds with an acre and a half of formal gardens, a really peaceful location with amazing views out to the sweeping countryside. This property is ideal for groups or families sharing that want to explore beautiful Herefordshire, its quaint village, fantastic walks and rivers.
The Croft is very well presented with a main house and an annexe with separate access. There are eleven bedrooms in total and this large Herefordshire holiday cottage sleeps up to 25 people. One of the main draws for The croft is the fantastic swimming pool, large enough for fun games and it also has a sauna and shower area, your family will never get bored here, even when the weather isn't great! There is also a gym and a games room with a pool table and the house and the annex are both really spacious with a sun room, a total of three sitting rooms and a dining room that seats 24 people. The Croft in Peterchurch is well maintained, great reviews and the location is perfect for walking and exploring Herefordshire and Monmouthshire.
Middleton Hall near Belford, Northumberland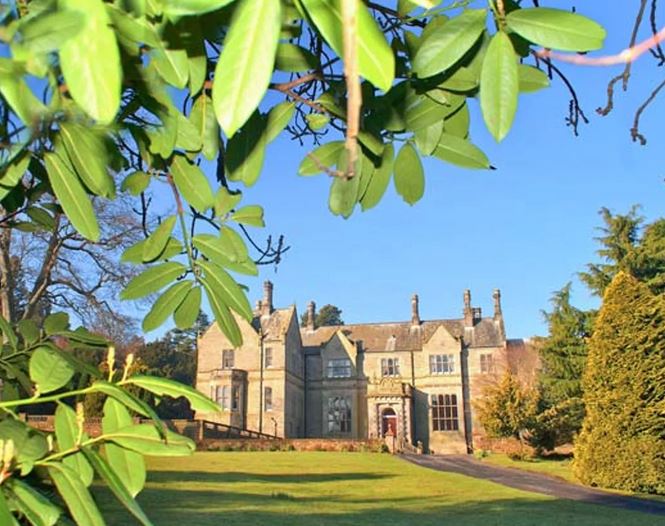 Have we saved the best till last, quite possibly with the stunning Middleton Hall near Belford here for you to view. This is a stunning 17th century mansion house in the Northumberland countryside with the Cheviots and the coast all within easy reach. Middleton Hall really is a lot more than just a holiday home, it is stunning from the moment you walk in through the stone set doors into the Great hall with its huge ornate ceilings and stunning staircase, it is more like a film set!
The property has kept every little bit of its character with open fires, wood flooring and ornate and elegant finishings throughout, it really is quite a breath taking large holiday home set in a gorgeous location. As an example, every one of the ten bedrooms is individually styled, really well furnished, luxury and opulent, just very tastefully presented and the owners have done a fantastic job in keeping the character and yet presenting a luxury holiday home that is top of the list.
The main entrance is nearly over whelming, Middleton Hall sets you back in time and yet there is every modern feature that you would want, even a snooker room that takes you back in time! The dining room is really special so if you are looking for a house that is perfect for a family celebration and you can even have caterers bought in, Middleton Hall is ideal. There is a beautiful orangery with tasteful furnishings and views over the lawns and several spaces with seating throughout the house. We think that Middleton Hall is quite exceptional, in a favoured location that is ideal for walking and exploring the coast and countryside of gorgeous Northumberland, one to be seen to be believed.
IMPORTANT DISCLAIMER - PLEASE READ - All reviews are posted by third parties. As such they do not represent the views of My Cottage Holiday Limited nor should they be taken as a recommendation by My Cottage Holiday Limited of any property. ALL reviews are the opinions of other users and may not be accurate. They do not represent the views of MyCottageHoliday or its employees. We accept no responsibility for the accuracy of the information provided on the site. The reviews and property descriptions are provided by members of the public to help you choose a holiday cottage but you should personally check ALL details with the property owner or their agent before making a booking.
My Cottage Holiday Ltd, Home Farm Cottage, Knowle, Braunton, Devon, EX33 2LY, Company No. 09974415,