Holiday Cottage Management - it never stops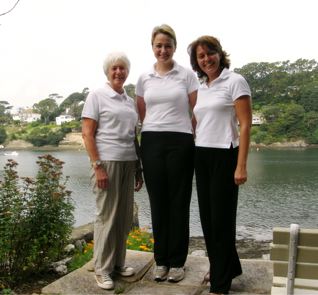 One of the Cornwall Property Care cleaning teams.
Last week Sue Moss, the proprietor of holiday home management company Cornwall Property Care, spared the time to talk to us about the holiday home market and about the pro's and con's of using a management company to help look after your property. The interview makes fascinating reading.
What does Cornwall Property Care do? Cornwall Property Care is a Cornish company providing the full range of services necessary to ensure the smooth running and total enjoyment of holiday homes for their clients in South Cornwall.
We are specialists in providing a professional holiday home management service tailored to the individual requirements of our clients. We can offer Home services covering domestic services such as cleaning and housekeeping, Property Maintenance Services for general property maintenance and problem solving and Concierge service which addresses those special details which make the Cornish holiday experience a memorable occasion, such as providing Cornish chocolates and organic guest soaps to flowers and pantry hampers. Attending to these professionally is what Cornwall Property Care is all about.
What is the difference between housekeeping services and caretaking services? Some service providers have a different understanding of these terms. Cornwall Property Care provides both housekeeping and caretaker services.
In our understanding, housekeeping involves all domestic services in the home to include cleaning, spring cleaning and autumn wraps, laundry and linen services, upholstery and carpet cleaning.
A caretaker service encompasses all property maintenance issues. Cornwall Property Care can organise general maintenance work such as replacing loose fittings, servicing door and window locks, non-Corgi plumbing work, replacing tiles etc., painting and decorating, wood care, window cleaning, gardening, gutter & drain clearance and other home repairs. When it is necessary to contract out for work, we only use vetted specialised contractors and do not charge any commission for work undertaken. In preparation for winter we can also organise an annual schedule of works to put your mind at rest that your property is well maintained
As long as your service provider provides both it doesn't really matter what they are called!
Are both essential? Ideally, yes.
Is there a risk in appointing one company to do both? If so, how can that risk be minimised? In my experience I have found that there are cases where the letting agent has provided key holder and property maintenance services but these have been limited to their opening hours. It is a good idea to check with the letting agent to ensure that in these circumstances they can cover out of hours as well as 9-5 Monday-Friday and that a key is available for service provision. The key holder service is necessary for service providers to gain access to the property when required and this can be charged out for. It is a good idea to check that your letting agent will assist in all circumstances or you might end up having to pay twice?
Do you think that holidaymakers are becoming more demanding? Not in my experience. Holidaymakers do expect that the property they have rented be up to the standard advertised with suitable provision of fixtures and fittings. Confusion generally occurs when property maintenance, cleaning and inventory is not upheld or to a low standard.
The weather can be a big issue not that there is a lot we can do about that! Holidaymakers are much more likely to make a return booking if they experience sunny weather.
So people demand what they are promised. That's not unreasonable. What is the effect of that on holiday let owners? The property owner needs to ensure that all the service providers are professional, providing an excellent standard of service. This may result in spending money to keep the property/fixture and fittings up to scratch to keep their guests satisfied. They will lose bookings instantly if their holiday home is not in order, leading to vacant weeks and lost revenue.
What are the biggest pitfalls of an owner managing their own holiday let? I would say this wouldn't I, but there are definite problems with managing your own property. Amongst which are low booking rates; unreliable cleaner or caretakers; distance - if a property owner wants to deliver services themselves, living too far from the property to easily service it or to check faulty or missing equipment can be a nightmare.
What tips can you share with holiday homeowners who are letting for the first time? Do your homework.
It is always a good idea to ring several service providers including letting agents before committing to one. Each company will have their own way of doing things therefore ask them lots of questions and try to decipher which sounds best and whether you will be able to work with them. Cheapest does not always mean best and it could cost you a lot in the long run if the service providers don't actually reach the necessary standards.
How valuable is a welcome pack? What should it include? Attention to the small details is one of the key ingredients in ensuring a special holiday and the pleasure resulting from this will promote return visits and word of mouth recommendations. Providing a Welcome Pack is a good start.
The Cornwall Property Care Welcome Packs include: A welcome letter from a Bard of Cornwall; Holiday experience recommendations; Emergency information and domestic details (including isolation points) and instructions to find the fire extinguishers etc.; Grocery information e.g. firms delivering food produce etc.; Travel details; Visitor Feedback forms. We also supply a Quality for Tourism leaflet pack with leaflets of local attractions.
Why is a robust emergency contact system essential? What can go wrong if you don't have the right support 'on the ground'? Emergencies are never expected but they do occasionally happen, from a burst water pipe to a break-in or storm damage. Without a reliable emergency contact system the holiday guest is left with the problem. It is extremely unsatisfactory for a guest to have to deal with an emergency during their precious holiday time, if they chose to address it at all. This may mean that whatever the initial problem was the damage may become more expensive to repair and the homeowner is left with an extremely disgruntled holidaymaker.
We provide a 24-hour emergency service and property helpline as part of the property maintenance package. Through our network of experienced caretakers we can address any problem or fault and co-ordinate specialist contractors if required. We can also be registered with the emergency services.
'Unreliable cleaners' is an old holiday homeowner gripe. What do you do to make sure you deliver your service levels? I would ask what experience a company has servicing holiday homes and whether they could provide suitable references. What I would be looking for is a guaranteed, regular and excellent standard of cleaning service. I would also ask them how they would go about ensuring this, for example, do they have an embedded quality system. I think it is important to meet them in advance prior to engaging their services so that I can get more of an understanding of the way they run their business and I would always check their credentials.
We offer a professional house cleaning service recognising that it is of paramount importance that all domestic services are always to an excellent standard. We have developed a Cleaning Quality Management Check List which enables us to ensure a thorough, regular and systematic clean of your home. Our housekeepers are responsible for ensuring the overall cleanliness of the property and can report back if time needs to be allocated to address any particular issues. We will provide all necessary cleaning products. We can also provide a cleaning schedule in advance of the letting period to notify the homeowner of service dates and times and are domestic cleaning services are guaranteed. Our staff are also CRB checked (criminal record bureau).
If a holiday-let owner was to do one thing tomorrow, what should it be? This is a really difficult question [we never said it would be easy! - Ed]. Make sure that your property is in the best condition to receive your guests and be mindful that it is your guests overall holiday experience that dictate return bookings, which is what it is all about.
Do you have any advice or tips about insurance? What should an owner have in place? Are there nice to have's that you recommend? Insurance can sometimes be bought though the letting agent as well as other insurance companies. You should look for a Holiday Home Insurance Policy which should cover all events including service personnel working in the property and should be displayed in the property.
If an owner is appointing a company to help manage their property what should they be looking for? A comprehensive package that addresses all cleaning, property maintenance and concierge services is ideal. The owner should consider their property as a business and therefore a professional service provider is essential to ensure that all standards are maintained to encourage regular bookings. Vacant weeks are lost revenue.
What is the killer question they can ask? There isn't one! Sorry! It's amater of being thorough and business-like.
How does an owner get references? Don't be shy - this is your business. Just ask, and follow it up! Any service provider that cannot supply references or reluctant to do so should not be engaged with.
What are the risks of employing "the lovely couple down the road" to look after your property? Its great if you can get someone who is totally reliable and completely professional however there are no guarantees using the 'lovely couple down the road'. Examples of problems that can occur are as follows:
- Illness and unavailability can result in the property not being serviced
- Quality assurance - no system in place to ensure cleaning standards are maintained
- Unprofessional attitudes or personal disputes can make negotiating difficult
What is the biggest challenge for cottage owners in 2009? This has to be the credit crunch and whether it will impact holiday bookings. [8 million UK holidaymakers choosing to stay in the UK in 2009 rather than go abroad presents a great opportunity for a bumper year if an owner gets everything right - Ed]
Are you optimistic or pessimistic about the holiday let market in 2009? Too early to tell but my glass is always half full!
What is the strangest thing you have ever seen in a cottage? I would like to say something completely bizarre and whacky but we haven't had any! Sorry! We have monitored the progress of a family of badgers that took temporary residence in the beautiful gardens of a creek-side house we are managing. We didn't want these beautiful creatures to meet any of the holidaymakers coming home late in an evening. Fortunately they moved on. Does this count?
What is the oddest thing you have been asked to do (keep it clean) by an owner? This has to be removing a bee's nest, which had nested by the front door of a holiday home. One of our caretakers happened to be an enthusiastic beekeeper in his spare time and was more than happy to move the nest to one of his vacant hives before the holidaymakers arrived.
Sue, thank you for sharing your thoughts and advice with the MyCottageHoliday owners. I think that everyone will have got a bit out of that.
Andy Brown
Editor MyCottageHoliday.co.uk


A bit more about Cornwall Property Care:
We are specialists in providing a professional holiday home management service tailored to the individual requirements of our clients. We can offer: Home services covering domestic services such as cleaning and housekeeping. Our Cleaning Quality Management Check List enables us to provide an excellent standard of service. We can also complete spring-cleans and autumn-wraps and provide a professional laundry service and linen hire scheme; Property Maintenance Services for general property maintenance and problem solving. Property checks, Key Holder Service, Property Maintenance Scheduling & Repair, 24-hour Emergency Service and a Property Helpline are covered in this service and are essential to help ensure the property is safe and in good order; Concierge service addresses those special details which make the Cornish holiday experience a memorable occasion, such as providing Cornish chocolates and organic guest soaps to flowers and pantry hampers.
Sue Moss, Proprietor,
Cornwall Property Care, 13 Highfield Road, Falmouth, Cornwall TR11 2DW
Tel: 07800 841791. E-mail: contact@cornwallpropertycare.com. www.cornwallpropertycare.com
If you would like to contribute to the MyCottageHoliday.co.uk Owner Area, please get in touch with us via the Contact Form.

IMPORTANT DISCLAIMER - PLEASE READ - All reviews are posted by third parties. As such they do not represent the views of My Cottage Holiday Limited nor should they be taken as a recommendation by My Cottage Holiday Limited of any property. ALL reviews are the opinions of other users and may not be accurate. They do not represent the views of MyCottageHoliday or its employees. We accept no responsibility for the accuracy of the information provided on the site. The reviews and property descriptions are provided by members of the public to help you choose a holiday cottage but you should personally check ALL details with the property owner or their agent before making a booking.
My Cottage Holiday Ltd, Home Farm Cottage, Knowle, Braunton, Devon, EX33 2LY, Company No. 09974415,